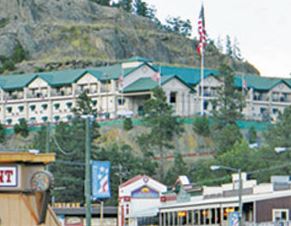 Enjoy your Mount Rushmore Vacation at the base of Mt. Rushmore National Memorial. A Family's Most Affordable Vacation Ever located just a short distance from Mount Rushmore and adjacent to Keystone's Historic 1880 Boardwalk and central to all Black Hills events and activities.
The Presidents View Resort has a variety of rooms with LOW LOW RATES. This includes singles up to balcony suites with views overlooking Keystone and some with actual views of the faces at Mount Rushmore. Our resort motel also has a large indoor pool and hot tub atrium with a spacious outdoor patio seating area and is within walking distance to restaurants and shops plus Kids FREE / Pets FREE.
Are you coming to the Black Hills for a family vacation or reunion? Be sure to check with our front desk staff to find some of the best family activities and places like Mt Rushmore which the Black Hills areas offer. Keystone, Hill City, Custer, or more out of the way places like Rochford. We can help you find the mazes, the museums (do you know about the new Railroad Museum in Hill City?), or maybe you're looking for a near by micro brewery or winery. The Black Hills are rich in family oriented attractions or out of the way lover's retreats. The Black Hills offers a lot, let us help make your visit a lifetime memory.